Richard C Mallett
30 October 1947 - 7 Nov 2016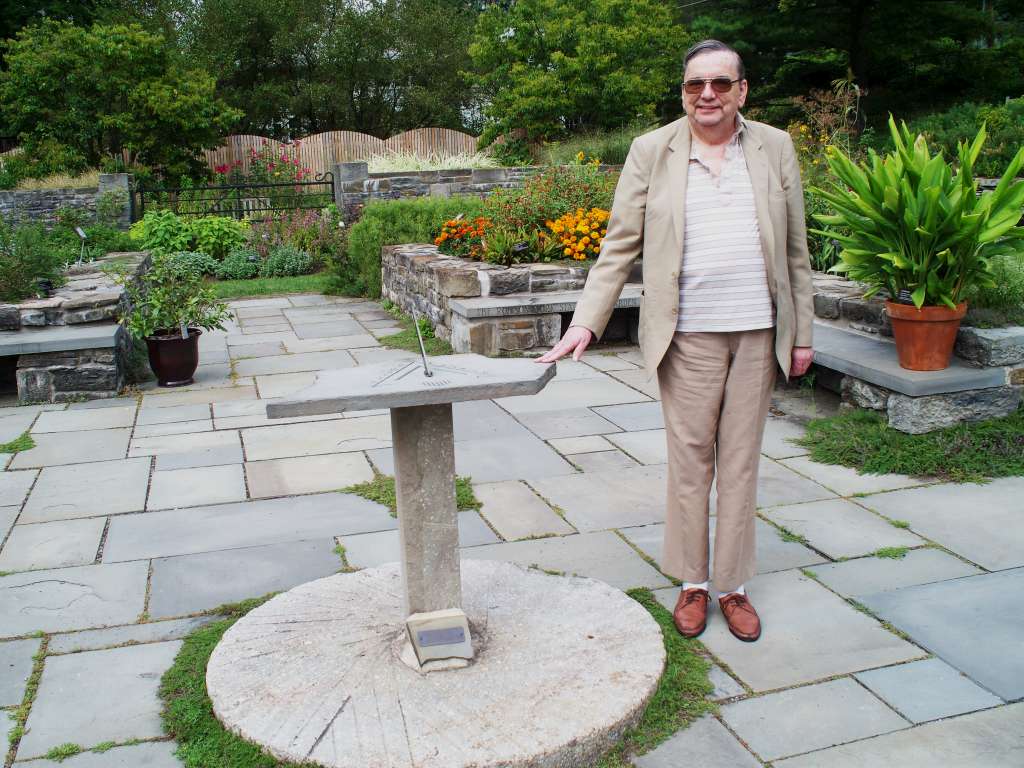 Photograph taken 26th August 2010 at the dial in 'Cornell Plantations' - the Botanic Gardens associated with Cornell University in Ithaca NY, USA
Richard, who died recently, was born in Guernsey, the only surviving son of Maurice Mallett and his wife Kathleen (née Guilbert). He was educated at Elizabeth College, Guernsey, and then read Mathematics with Physics at Reading University obtaining an honours degree in 1968. He then found employment in the up and coming field of computer science.

Richard had an almost unbelievable number of interests which ranged from collecting stamps and coins to Egyptology, astronomy, photography, the scientific study of the history, symbolism and usage of flags (vexillology) through to an interest in sundials. He was a member, and one time trustee and member of the Council of the English educational charity The British Sundial Society.
After a near disaster with the Sundial Society's then heavily modified and entirely non-compliant website, Richard stepped in at no charge to the Society to rewrite it using the then new Expression Web software from Microsoft. This proved very successful and was of course fully W3C compliant. Always interested in the real science behind everything he was an ardent adversary of those who believe in global warming, noting and recording very carefully, the very many unexplained aspects of the warmist thinking at the time - many of which still remain as unexplained and serious issues for the field. He argued strongly for all such to be discussed openly in scientific debate and was opposed to today's suppression of reasonable alternative argument. He was also very interested in politics and current events, not only in the UK, but also in France.

Richard never married and lived largely as a recluse in his home in Eaton Bray near Dunstable, surrounded by his extensive library of books along with several computers, cameras and telescopes. His mother predeceased his father but after his father died some six or more years ago, Richard's connexions with Guernsey were broken. He clearly missed that because in 2013 he commissioned a vertical sundial from renowned UK sculptor and diallist Harriet James for the front of his house in Eaton Bray and he particularly wanted Harriet to carve the dial in Caen stone because of his connections with Guernsey and those between the Channel Islands and Normandy. He also much liked Harriet's idea of including the cross pattee to mark noon (a common sundial feature in British dials) but which is also like the cross on the flag of Guernsey.

Amongst other specified details Harriet recalls that they talked about whether it should be a dial on the west or south wall of his house. Harriet sketched some ideas for both and sent him photos of dials she had made from different stones. She measured window sizes and brick course heights so that she could try to design the dial with proportions to fit in with the oddly asymmetrical arrangement of windows.
Richard was also looking forward to having some work done on the house and garden at the time. During all this one of the neighbours came out and Richard enjoyed telling them he was going to have a sundial.
Richard specified a few things he would particularly like:
- A spherical nodus on a round section bar gnomon
- Room to have a scaphe or carved sunburst at the origin of the hour lines
- Declination lines to mark the solstices and equinoxes
- Quarter-hour or half-hour divisions
- The motto from Virgil - Omnia Fert Aetas - 'Time/age bears away all things'
- Arabic numerals and a supporting stone corbel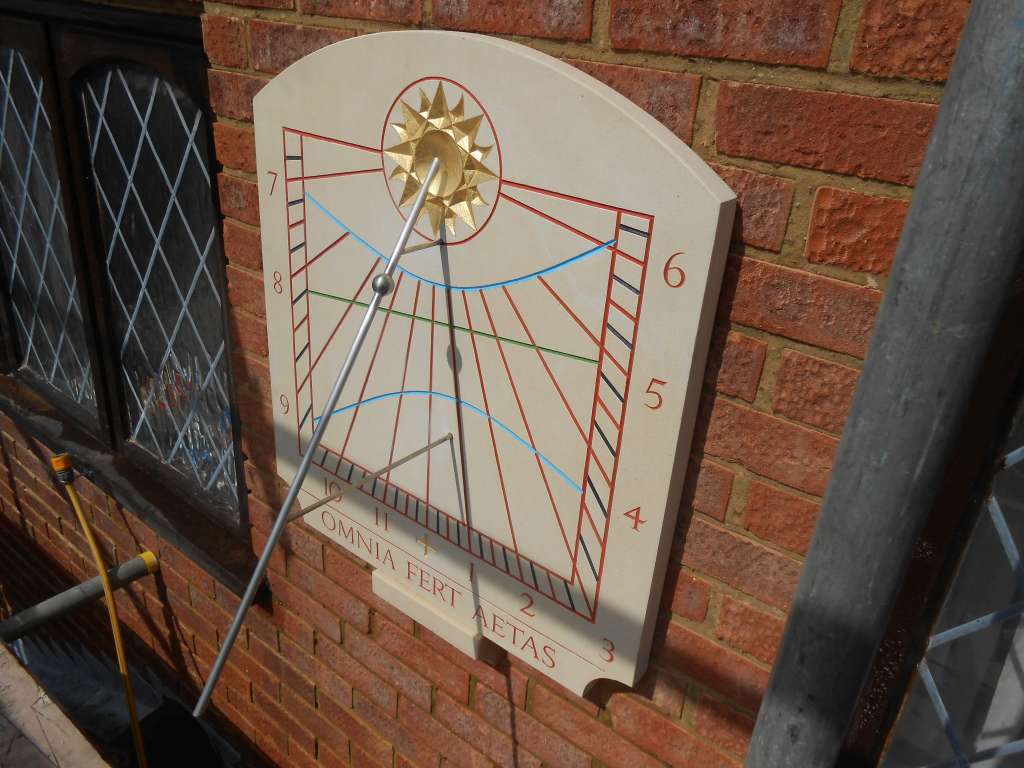 Photograph courtesy Sunnydials © Harriet James 2013
Richard was really delighted with the dial - seen above during installation. He remarked to Harriet after the installation that when the contractors took down the scaffolding they even took photographs of the sundial and later, when his neighbour came home from work that afternoon, the neighbour wanted to suggest to his son's school that they send some of the children round to look at the sundial, such was the local interest.

Richard died unexpectedly on November 7th, but was not buried until December 12th because of the need for an autopsy. Richard was still active on the Internet and on Twitter until mid-October. He had not been very well for some time, mostly complaining of headaches and digestive problems, but no one had any reason to think his condition had particularly worsened .
Richard is survived by his cousin Wendy Guilbert who lives in France and by several other cousins.

Patrick Powers 2016